Introduction



VAMP Project Description (pdf file 303 KB)

The Virtual Astronomy Multimedia Project (VAMP) will enable access to, and vastly multiply the use of, astronomy image resources. VAMP will enable innovative future exploitation of all kinds of outreach media by systematically linking resource archives worldwide.

Everyone will agree that a picture says a thousand words, and further that astronomical imagery is awe-inspiring and helps to engage the general public in "science". Despite the high value of astronomical images there is no standardized way to describe or deliver images in a systematic and simple way in the astronomical outreach community. Each observatory has its own manageable online gallery of images, but each facility has its own way of describing and delivering the images. This makes it difficult for an innovative multimedia project, such as a desktop planetarium program, to integrate the most current images from all the major observatories into their applications. The developer has to make custom tailored software tools to access each observatory's image database. Furthermore, many astronomical images found online in search engines are separated from the original source and the richness of contextual information from the Education and Public Outreach (EPO) description. Lastly, the standardization of metadata and delivery of images is necessary if the astronomical community is to stay afloat in our soon-to-be "Web 3.0 world".

VAMP offers a threefold solution to the astronomical community. VAMP manages the Astronomy Visualization Metadata (AVM) standard for astronomical imagery. It is endorsed by the International Virtual Observatory Alliance (IVOA) and is already being used by Spitzer Space Telescope, ESA/Hubble, and Chandra X-Ray Observatory. Multimedia and planetarium developers such as Microsoft's World Wide Telescope, ESO's Stellarium, California Academy of Sciences, and the American Museum of Natural History are already excited about using the AVM for their applications and pulling images dynamically into interfaces from observatory servers. The AVM is a defined set of metadata fields that includes an exhaustive astronomical object taxonomy and World Coordinate System information. The metadata is organized, indexed, and stored in multiple locations for reliability. The third piece to VAMP is the delivery of the image metadata and locations back out to the public. The VAMP service will be open to anyone wishing to receive AVM style metadata and remote image locations via sophisticated search strategies.

VAMP is a collaborative project between individuals representing the Spitzer Science Center, ESA/Hubble, California Academy of Sciences, IPAC/IRSA, and the University of Arizona. Key personnel at major observatories and end-application development organizations have endorsed the project and are committed to its success. The three main locations for VAMP development will be IPAC in Pasadena, California, USA, ESA/Hubble in Munich, Germany and California Academy of Sciences (CalAcad), San Francisco, USA.

VAMP online store
Check the VAMP online store. Cool T-shirts, mugs, sweatshirts! International shipping available. Non-profit.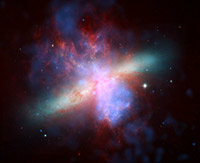 M82, as imaged by Chandra, Hubble and Spitzer telescopes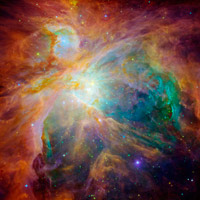 M42 as imaged by Spitzer and Hubble telescopes
Poster presented at the AAS2013 Conference in Long Beach, CA